Finally I made a Cocoon cardigan! I have seen many nice cocoon cardigans in my feed on Instagram over the years, and I think they look so cozy. When I saw @annavirkpanna's "Cirkle of life – Cocoon", I was really excited to do it. The pattern had not yet arrived, but she was looking for testers. I was lucky enough to be selected! Thanks Anna!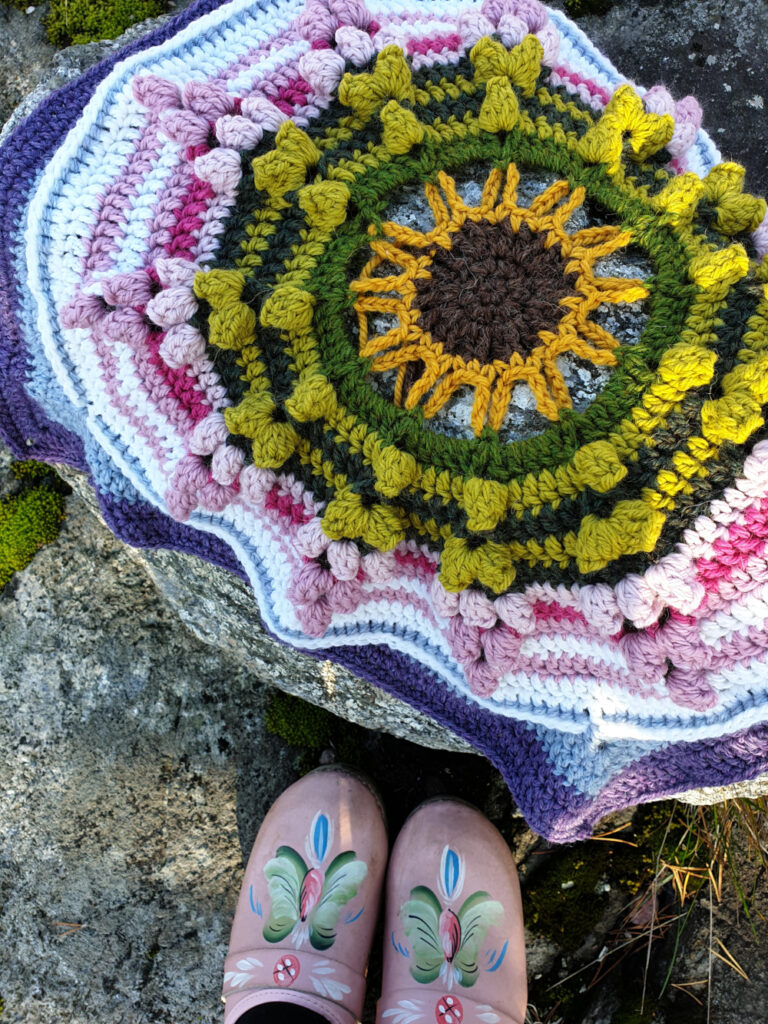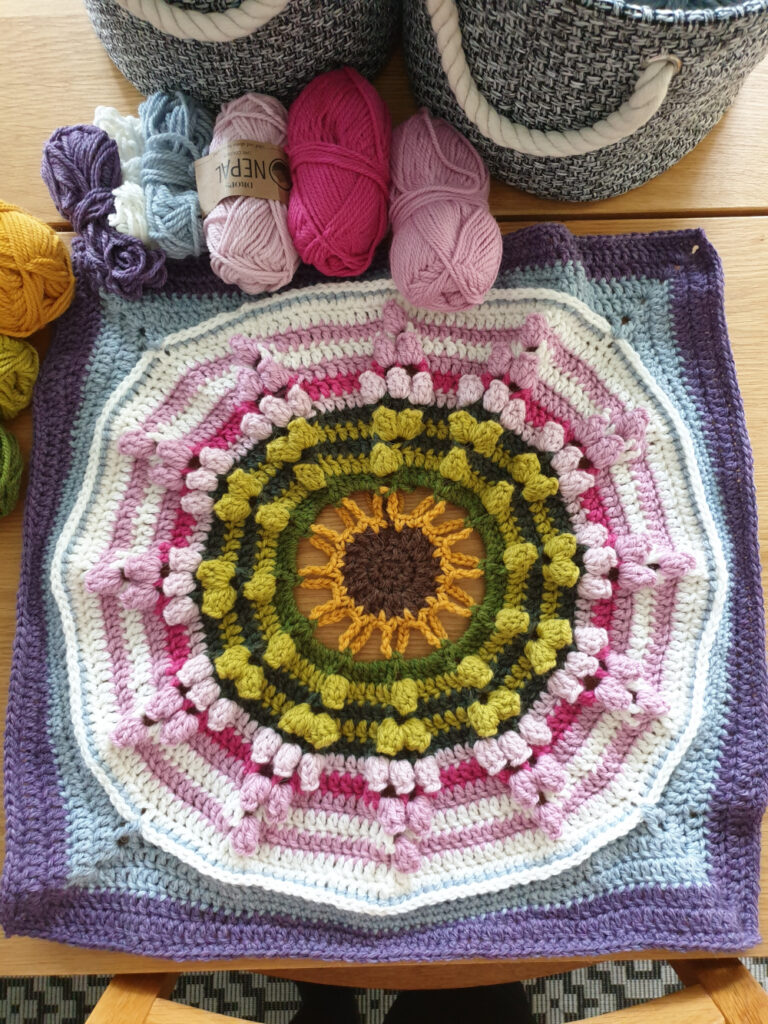 I wondered which yarn i should use. I wanted it to get really warm and cosy. I searched through my yarn stash and decided to use Drops Nepal yarn. I was going to make a single-colored cocoon cardigan at first, but I don't have that many yarn skeins in one color. I didn't really know how many yarn skeins it would take, as it was another yarn used in the pattern, but I figured that if that wasn't enough then I could shop more. The crochet hook I used was a 5 mm.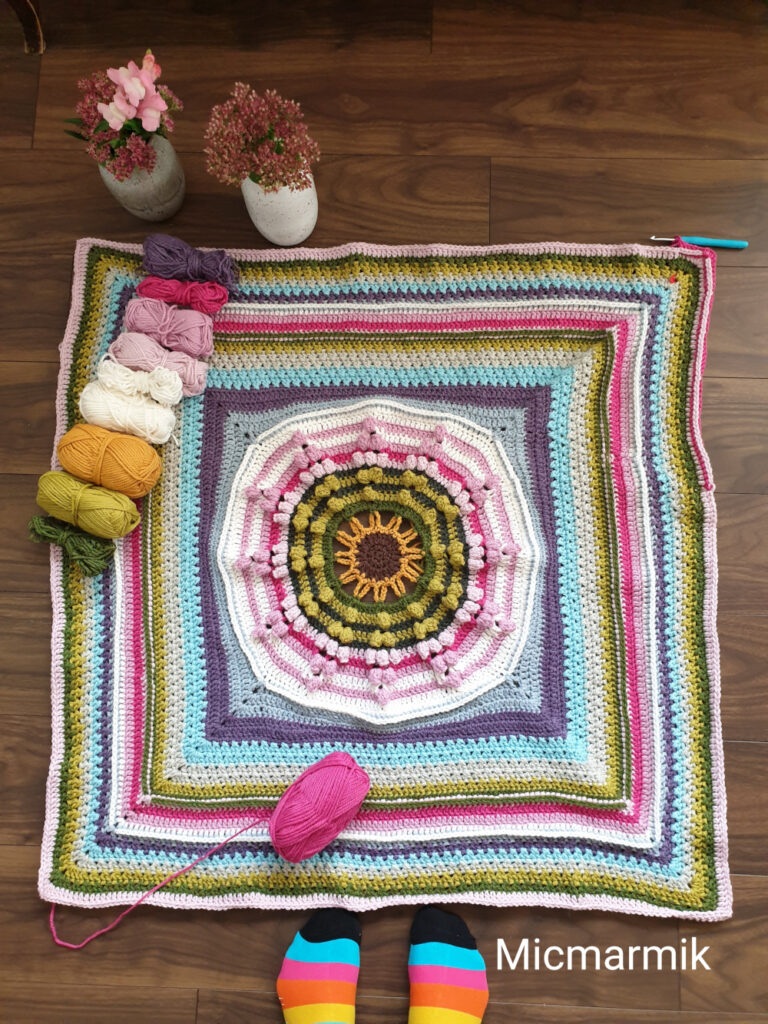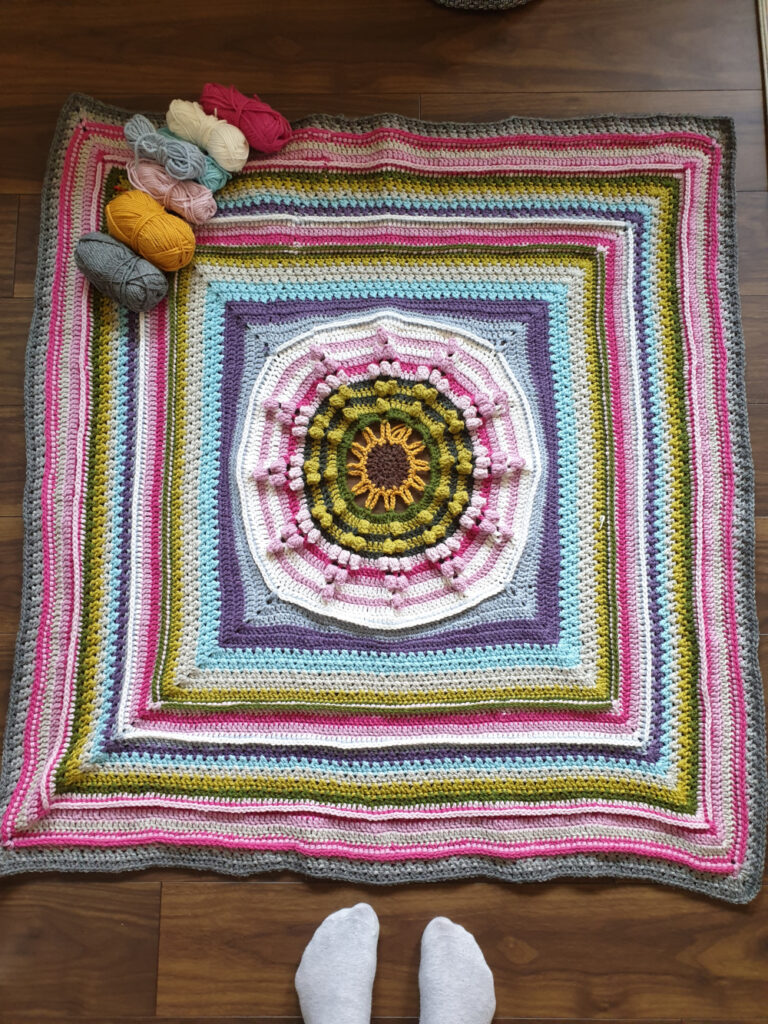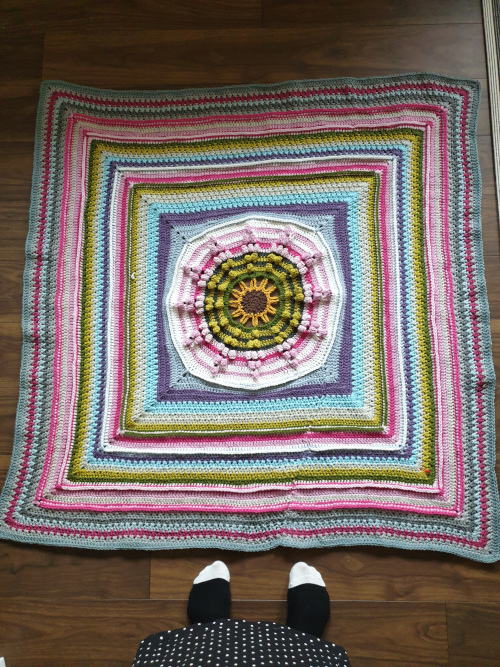 I initially thought about making a yellow sun in the middle but then I decided to make a sunflower. (Both flower and sun in one, can not be better..hihi). The color around the sunflower was changed for every round, which made the puffs really pop. When it was time to make a square out of the circle, I used the same color for three turns each on the next two colors. Then I restrained myself and reduced to two turns per color and finally one turn per color. One yarn skein was enough for a lap at the end of the square.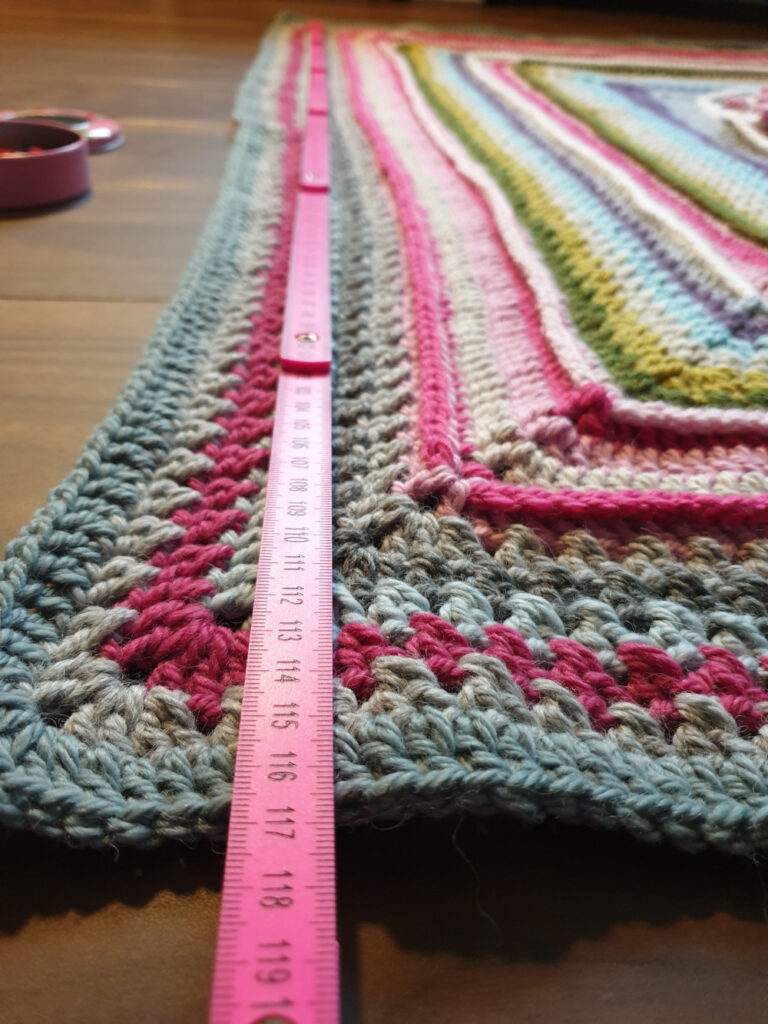 My yarn supply of Nepal yarn was enough for the whole cardigan. I did not count the skeins while I crocheted but I weighed the cardigan afterwards and it weighs 1400 grams, which makes approx 28 skeins (50 grams) of Nepal yarn. (Had someone said it had gone to that number of skeins before I started crocheting, I would probably have bought some more..hihi..I still have  left in the yarn supply …) I crocheted exactly after the pattern, except for the number of stitches at the opening for the sleeves where I decreased by 10 stitches. My square was 4 cm wider than Anna's square.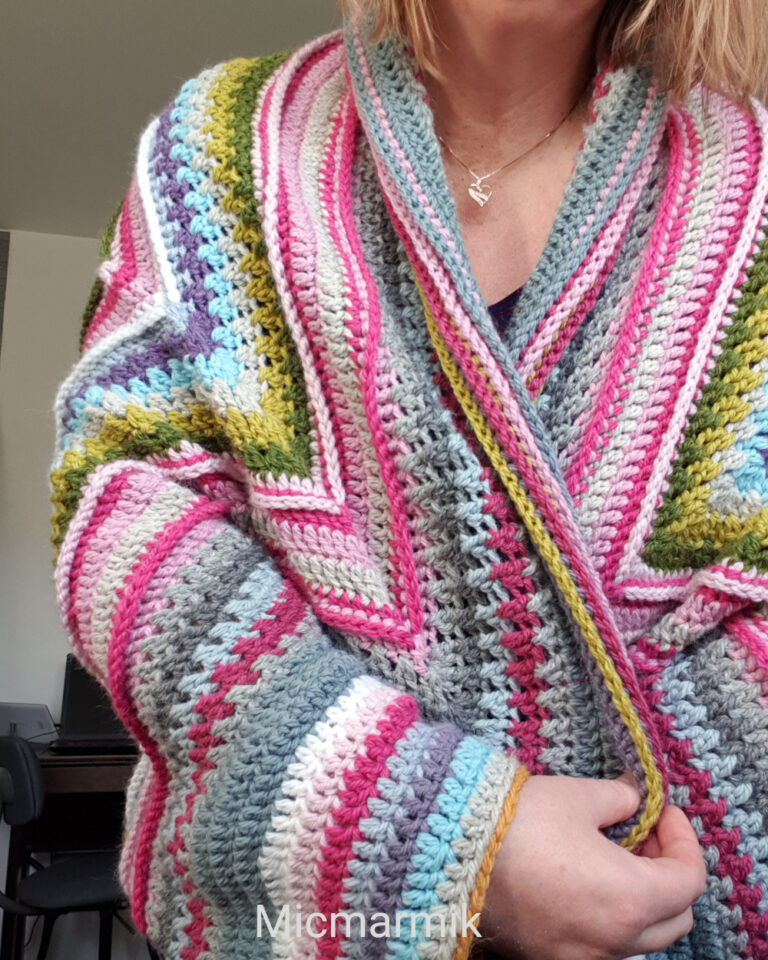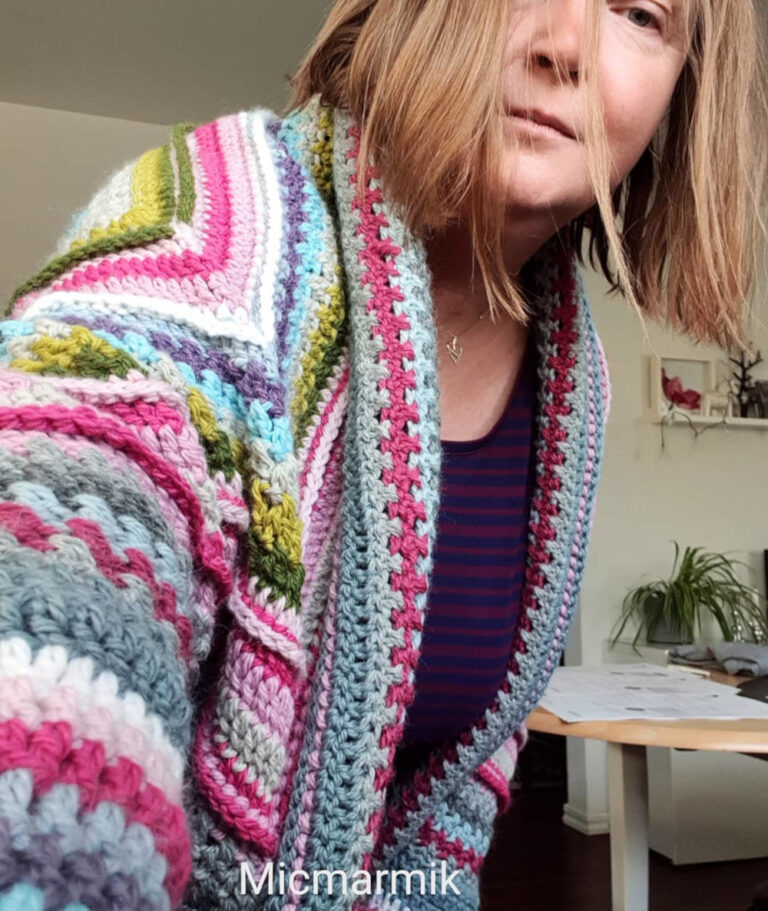 I thought it was a nice pattern to follow. There has been nothing in it that I got hung up on, and it has been a very cozy crohet experience throughout. The cardigan was exactly as I imagined! High cozy factor! I use my finished cocoon cardigan every day, unless another family member has put it on before me. One tip is to crochet at least two cocoons..hihi. Thanks again @annavirkpanna for a nice pattern!